Knowing How to Approach Blockchain
By Thomas Jakob, Regional President Asia Pacific, Bosch Software Innovations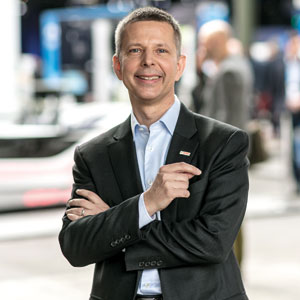 Thomas Jakob, Regional President Asia Pacific, Bosch Software Innovations
How executives should approach blockchain
Across industries, companies are considering how to implement blockchain. While some are more advanced than others, there are also many companies standing at the very beginning of their blockchain journey. For those the question arises: How can we approach a new technology like blockchain? Below are a few things to consider when evaluating the opportunities blockchain could have for your business.
Understand how blockchain works
As with all emerging technology, it's important for leaders to have an up-to-date understanding of how new technology works. This will help them understand the potential risks and benefits of blockchain.
Blockchain is a database that is managed on a peer-to-peer network of computers. It's also often referred to as a distributed ledger: a decentralized way to chronologically document transactions. Each participant in the network has access to the entire blockchain and its history. When a transaction is recorded, the accounts of all the participants are updated with the information. Transactions are grouped together in blocks, each of which are then linked to the one before it. The result is a chronological record that is nearly impossible to tamper, alter, or destroy.
A key characteristic of blockchain is that it is decentralized and reliable. Blockchains are distributed across peer-to-peer networks, which mean that copies are stored on all participants' computers. Therefore, there is no crack for hackers to attack. Blockchain also offers transparency because each transaction is recorded and visible to all participants. Lastly, blockchain bypasses third-party intermediaries like banks or brokers. Since it's virtually impossible to counterfeit,the philosophy behind blockchain technology is to create trust between the all parties.
Consider potential blockchain use cases
While understanding how blockchain works is an important first step, it is also crucial to consider how it can be used in practice. Blockchain can be implemented in many different ways. Bitcoin may be popular, but there are many others that go beyond virtual currencies.
The bigger a blockchain gets, the higher are the requirements for storage, bandwidth, and processing power. High processing fees can also pose challenges
For example, there's an ongoing debate over whether blockchain has the potential to disrupt the music industry. Based on blockchain, musicians can be paid directly using micro-payments of a cryptocurrency for consumers to buy or listen to a song. The purchasing platforms can be excluded from the process, which also means they don't need to collect revenue.
Blockchain also has the potential to be used in the Internet of Things (IoT). Imagine buying a used car with some parts replaced. Blockchain, in combination with IoT sensors makes it possible to trace the origin of the spare parts so you can be sure they are not counterfeit. By giving every part a unique ID you can get a detailed record of the part moving through the supply chain, including time stamps.
The Bosch IoT Lab in Switzerland is currently evaluating how blockchain can help prevent odometer fraud. The idea is to install a connectivity device in the car that reads mileage data. Information is then transmitted to a back end which is connected to a blockchain. Consumers can then check the mileage history of their car through an app.
Taking an iterative approach with blockchain and testing potential use cases step-by-step will help you to explore the benefits and restrictions of blockchain.
Keep an eye on future blockchain developments
In the upcoming months and years there will be major developments in regards to blockchain – and the APAC region will play an important role. Although China is currently making headlines with its critical stance on initial coin offerings (ICOs), it will also be supporting blockchain development as part of its 13th Five-Year Plan (2016-2020). In Australia, the Australian Securities Exchange plans to replace its current clearing system with blockchain technology. The Monetary Authority of Singapore (Singapore's central bank) is collaborating with partners on Project Ubin to explore the use of blockchain to clear and settle payments and deposits.
If you are considering using blockchain for your company, it's important to keep an eye on new developments. Not just because they may have a direct impact on your approach, but also for inspiration. Last but not least, you should not ignore the potential challenges associated with blockchain. The bigger a blockchain gets, the higher are the requirements for storage, bandwidth, and processing power. High processing fees can also pose challenges.
It seems like nearly everyone in the tech industry is considering blockchain in one form or another. By taking an iterative approach without getting caught up in the hype, you can navigate how your business can benefit from blockchain.