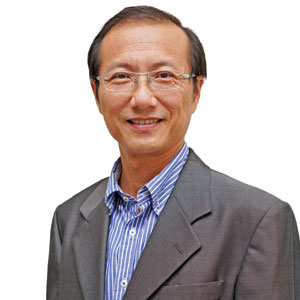 Frankwell Jyh-Ming Lin, President
Touted as one of the leading suppliers of embedded CPU IP in the semiconductor industry, Andes Technology Corporation (TPE: 6533) is a firm that was initiated with one motive--to develop high-performance/low-power 32-bit processors and its associated SoC platforms to serve the rapidly growing embedded system applications worldwide. Over the years, under the leadership of Frankwell Jyh-Ming Lin, the President of Andes Technology, has gained the repertoire of being a leading technology company with awards such like 2012 EE Times worldwide Silicon 60 Hot Startups to Watch, 2015 the Deloitte Technology Fast 500 Asia Pacific award. With his vast and insurmountable experience, President Lin co-founded Andes Technology Corporation (Andes) in 2005 and formally took the position of Andes's President since 2006.
The Change Brought in by Andes Technology
Amidst the increasing versatility in features of electronic devices, there is growing demand for scalable and cost-effective SoC solutions. However, the current consumer market has brought in sophisticated design requirement that incurs difficulty for traditional component providers to offer cost-effective solutions in time.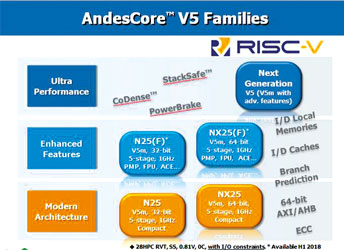 Andes Technology has established itself as an embedded processor intellectual property supplier in the world by developing high-performance/low-power 32/64 bit processors and their associated SoC platforms. AndesCore CPU products are based on the patented AndeStarInstruction Set Architecture (ISA). This is a RISC-like architecture developed exclusively by Andes Technology Corporation specifically to increase the performance and power savings. AndeStar is the next-generation of RISC computing, with powerful performance features.
Andes Technology's IP solutions have also become a part of the IoT domain. They are used in a wide range of IoT products depending on the different demands. Andes N7 2-stage, for instance, is suitable for low-power processes in IoT devices while Andes N8 is suitable for higher speeds such as Bluetooth, Zigbee or WiFi. Andes E8, on the other hand, allows customers to add specialized instructions to increase performance-efficiency, boost performance and lower power. Andes N10 CPU is the preferred choice in SoC architectures for IoT due to the OS and MMU requirements and even optional FPU support. Lastly, for high-end IoT devices that require symmetric multicore support, Andes N13 serves the need. Besides the IoT market, Andes Technology's solutions are also leveraged in different markets such as Wearables.
Andes Technology has established itself as an embedded processor intellectual property supplier in the world by developing high-performance/low-power 32/64 bit processors and their associated SoC platforms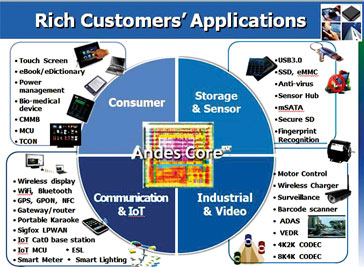 The Andes Ecosystem
Andes Technology first created the Andes ecosystem and the launched knect.me in 2015. Andes ecosystem covers foundry, Electronic Design Automation (EDA), IP, design service, key component, development tool, medium and application software, operating software, academic and education, industry and affiliations members. It has successfully created a rich series of innovated 32-bit embedded CPU IP AndesCore for SoC design community. The knect.me ecosystem is the Internet of Things community that provides open-source and commercial solutions for connected devices based on the highly performance-efficient AndesCore processors. Knect.me community partners provide the SoC development platforms, software stacks, application development platforms, and development tools SoC developers need to build highly competitive IoT products to meet narrow, fast moving product windows. Moreover, together with Andes and knect.me ecosystem, the firm has more than 120 partners and customers to support with regards to various applications.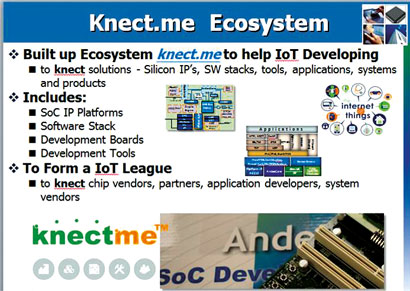 Andes Technology's embedded SoCs are geographically distributed in Taiwan, China, Korea, Japan, Europe, and the US. Recently, Andes Technology has showed a very aggressive role in providing and promoting RISC-V solutions. Andes positions itself as an aggressive player in RISC-V solution providing and contributes aggressively in both hardware and software open source solutions to RISC-V community. In the industry and world markets, Andes positions itself as a reliable RISC-V core IP business partner. Andes has launched aggressive promotion program toward fabless design houses and ASIC/design service providers. Andes has also launched two core products, namely N25 and NX25 that are RISC-VISA compliant with the capability of 64-Bit data processing. These can be applied in networking, deep learning/AI, and high-end storage-based applications. Further, Andes differentiates itself by providing Linux capable RISC-V core IPs, and Customer-Instruction Extension enable solution to its RISC-V core IPs starting early summer. "In the next few years we will provide extensibility to N25 and NX25 cores with floating point processor capability, Linux capability, Customer-Instruction Extension enable tools, and security compatibility to help customers equally develop AI based application," concludes President Lin.